Twenty miles from the Columbus Airport, in northwestern Orange Township, tucked into Delaware County, Ohio, is Lewis Center, an unincorporated community in the Columbus, Ohio Metropolitan Statistical Area. The community is between Columbus and Delaware, to the east of the Olentangy River, west of Alum Creek State Park, and across from the city of Powell.
In 2019, the ChamberOfCommerce.org's list of Best Ohio Cities to Live In named Lewis Center among its top ten.
The quiet suburbs of Lewis Center do not boast a typical downtown area, but there is a charming collection of stores, shops, businesses, and restaurants in town, particularly along U.S. Route 23.
The History of Lewis Center, Ohio
The town began when the railroad was extended to that point in the rural east area of Columbus Pike in 1850. In trade for the naming rights of the town, the family of William L. Lewis gave their land for a railroad station. In 1852, a post office was established called Lewis Center, and in 1893 the area was officially named Lewis Center.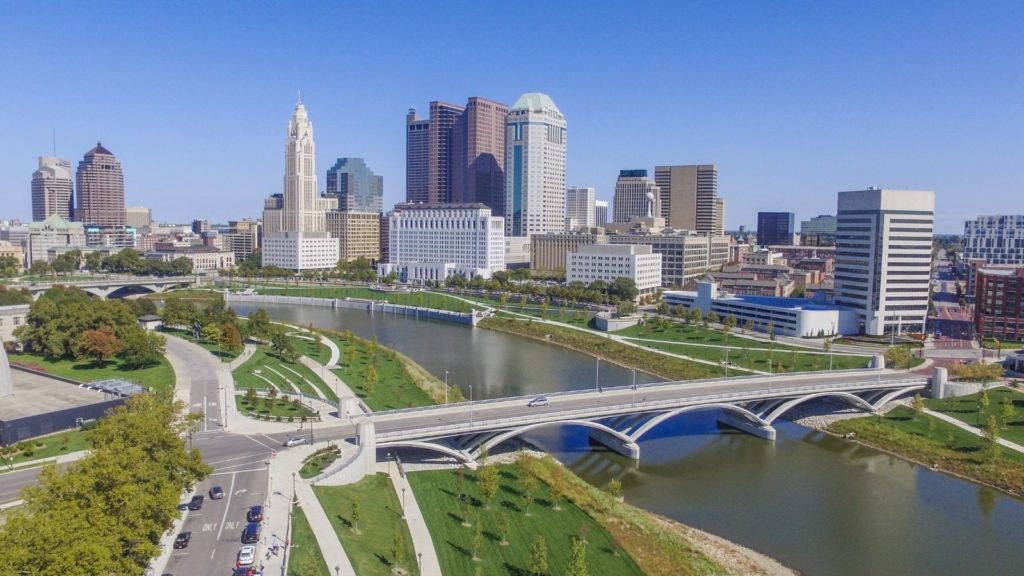 The area was also a significant part of the underground railroad as many of Delaware County's residents, according to the Delaware Historical Society, put themselves and their families at risk to house and guide slaves who had escaped.
Homes for Sale in Lewis Center
There's a range of housing styles and prices – from older homes in well-established neighborhoods to modern new construction in newly built affluent subdivisions, many of which are designed for walkability.
The median home value in Lewis Center, Ohio, is $433,982, compared to the Ohio median home value of $156,343.
There are about 24,722 people living in Lewis Center's 43035 zip code, which spans 19.6 square miles. Among them, the median annual household income is estimated at a comfortable $140,076, considerably above the Ohio median household income of $56,602.
Public schools in the area are managed by Olentangy Schools, one of the most highly rated districts in the state. The district manages a total of one preschool, 16 elementary schools, five middle schools, and four high schools.
The high schools, three of which were rated amongst the Top 20 Best Schools in Ohio, have a 98 percent graduation rate.
Olentangy Schools earns an overall A rating, one of only 31 districts to achieve that success.
There are several religious and non-faith-based private schools surrounding the Lewis Center area in nearby communities.
Higher education can be found at 17 colleges and universities within 50 miles of Columbus, including Columbus State Community College, Franklin University, Ohio State University, Columbus College of Art and Design, and more.
The Climate in Lewis Center, Ohio
On average, Lewis Center has about 131 days per year with measurable precipitation. The area gets about 39 inches of rain annually, which is only an inch more than the national average for rainfall.
The community is also on par with the U.S. average for snowfall, averaging 23 inches of snow per year in comparison to the national average of 28 inches of snow. 
Winter low temperatures in January drop far below freezing to a frigid 20 degrees. 
On the bright side, there are about 175 days when Lewis Center, Ohio, soaks in the sun's golden rays. That's slightly below the 205-day national average but also makes for mild summer temperatures.
In July, the high summer temperatures stay far below 100 at a comfortable 85 degrees, ideal for visiting one of the area's many parks and green spaces.
Personalized curb-to-curb ride-share services like Lyft and Uber are available throughout the areas surrounding Lewis Center, Ohio.
Bus service is provided by COTA – the Central Ohio Transit Authority.
For air service, residents and guests fly via the Port Columbus International Airport just 22 miles away, or they drive 36 miles to the Rickenbacker International Airport.
Lewis Center, Ohio, has its roots in rich history, but more importantly, it has its pulse firmly on the future, with new residential and commercial properties being built consistently to accommodate the area's growth. Lewis Center is an affluent community of residents from all walks of life living a comfortable, quiet lifestyle while still being close to Columbus for easy access to an endless array of things to do.
Have Questions? Ask Luis!